EXCELLENCE in Design

European Design, Partnered with Progressive Korean Company

Alex.Steinbach pianos are manufactured by Samick Musical Instruments Co. Ltd, a successful Korean company that produces many well-known piano brands around the world.

Samick have always placed great importance on the quality of piano production. They were the first South Korean company to acquire the KS-Mark (Korean Industrial Standard) certification in 1971. Since then, Samick has continued to make efforts in developing new products and improving quality, starting with a technical cooperation with the late Klaus Fenner, a piano designer and technician from Germany.

Fenner was renowned for designing the German Imperial Scale which gives Alex. Steinbach pianos longer strings and larger soundboards than most other pianos. Samick's venture with Fenner awarded them a Grand Prix for Quality Award at the International Piano Quality Contest held in Madrid of Spain in 1983. Samick then received two consecutive Gold Prizes in the 'World Piano Quality Contest' held by Diapason, an international musical magazine of France in 1985 and 1988.

Samick also received the first "GD Mark", recognising good design at the 3rd Outstanding Designs Festival in Korea in 1987. Subsequently, Samick pianos were selected as the best piano in the world by "Le Monde", a leading French newspaper in 1989.

Samick is one of the largest acoustic piano manufacturers in the world with a wealth of technical expertise. Alex.Steinbach pianos suit both home and school use and also meet stringent performance expectations, exhibiting a high standard of sound production for auditoriums and examinations.




GLOBAL Manufacturing Precision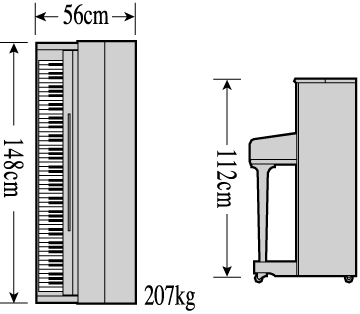 Many people ask where Alex.Steinbach pianos are manufactured. There are many aspects to piano production, so there is not a one word answer. In fact, we are proud that Alex.Steinbach pianos are remarkably multicultural!

The German name was chosen because the most important part, its sound design, originated in Germany. Known as the German Imperial Scale, it was developed by well-known piano designer Klaus Fenner.

Various materials for the piano are sourced from around the world to ensure that only the best quality parts are employed e.g. Roslau strings and Renner hammers from Germany for select models, felt from Germany and Japan, spruce from Quebec, Germany, Italy or Alaska, Rock Maple from the USA etc. Hence, although Alex.Steinbach pianos are labelled 'Made in Korea' or 'Made in Indonesia', the influence of professionals and materials from various countries around the world, really indicate they are a product of global manufacture.